Highlights:
Hema with Srilakshmi in 'Fun with Ali'
Srilakshmi talks about the deaths of her younger siblings
At the same time MS Narayana mentioned Hema
There is also the desperate pain behind the actors smiling in front of the camera. It is a situation where someone in the house is dying and even if they die, they have to go through the pain and act. Callsheets are given in advance so many actors take pains and take part in the shooting thinking that the whole shooting should not be canceled because of them. Pretend to be smiling in scenes. Two such incidents were recently mentioned in the program 'Fun with Ali'.
Senior actress Srilakshmi and actress Hema star in the latest episode of 'Fun with Ali' starring comedian Ali. Srilakshmi mentions the deaths of her younger brothers Rajesh and Anand on the show. When Rajesh (father of heroine Aishwarya Rajesh) died, Srilakshmi was in Hyderabad shooting for 'Pelli Sandadi'. The younger brother was found dead when he received a phone call from Chennai at midnight. Srilakshmi told the manager to go immediately. But, the manager said that there is a very important scene shooting tomorrow .. how to go. But, Srilakshmi cried and told him to go for sure.
Half-naked pop singer .. Ganesha doll around the neck .. BJP leader who pulled Rahul Gandhi
That night, the manager called Raghavendra Rao and told him to send Srilakshmi on a flight to Chennai immediately. After landing in Chennai, the famous music director Chakraborty's son Shree took her home in a car. Srilakshmi said that she was in the Tamil serial shooting when another younger brother Anand died. However, then she revealed that the serial director did not send her immediately. Srilakshmi cried that Anand was dead when he went home due to the delay made by the director.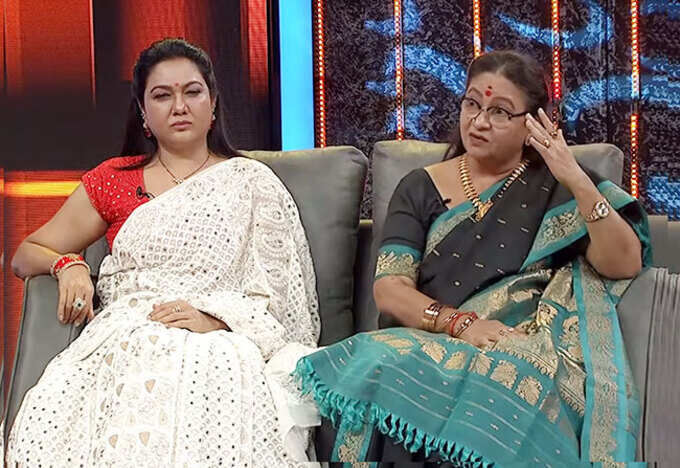 " My callsheet runs out at 9pm. I got a call at 8.30. Anand is very serious and told me to come immediately. I told the director to go immediately. He said that there are only two scenes and he will not leave. A situation where I can not do anything. I am playing the role of aunt. Smile and act jolly. I pretended to be suffering inside and smiling. When those two scenes are over .. take two closeup shots for the second one and then go away. Total left me at 10pm. At that time I went to drive the car myself. Anand died on the way home, "Srilakshmi cried.

They are both Gifted Actors .. Meeting: Nani
At the same time, actress Hema also mentioned an incident in the life of MS Narayana. "MS Narayana's elder brother once told me. Carrying a bag bag scene under the eyes in 'Aggression'. Brahmanandam Annayya, Narayana Annayya combination scene. At that time MS Narayana's wife had to undergo open heart surgery at Apollo Hospital. If he signs but will not do surgery. He is in Ramoji Film City. If you are unable to go to the hospital, bring the letter here and sign it. He did a comedy scene with a smile and immediately went into the bathroom and cried. Hema said, "I have to wash my eyes with water again and go and act."
[ad_2]

Source link